Photon Industries Samples to kickstart your project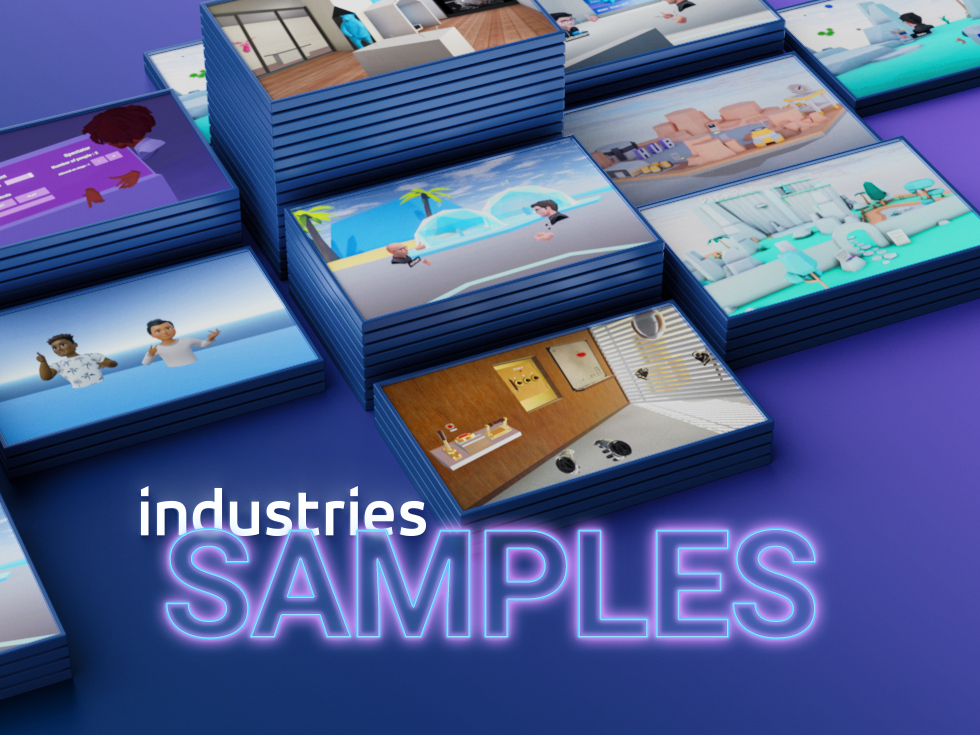 In the tech industry, Photon is recognized for its role in real-time virtual experiences. It has gained attention from Fortune 500 companies as a leading solution for exploring collaborative applications and simulations for corporate professionals.
Members of the Photon Industries Circle have access to exclusive cross-platform samples aimed at improving their multi-user apps, such as simulations, training, meetings, Metaverse experiences, and expositions. We recently released four samples that will help you kickstart your project. These samples include best practice patterns and reference implementations that shorten development timelines. 


Fusion Meeting offers a comprehensive approach to virtual meetings with a wide range of collaboration features tailored to the evolving needs of today's enterprise online meeting experiences.
Key Features
Avatar Customization:

Users begin by customizing a simple avatar or selecting a prefabbed "Ready Player Me" avatar. 

Public/Private Groups:

Users can isolate themselves into different rooms for focused discussions during a meeting.

Sound Insulation:

Ensures that conversations remain private, especially when a door is closed.

Drawing Tools:

Fusion Meeting boasts 3D and 2D pens, allowing users to sketch, draw, and annotate in real-time. The 2D pens can be used on vertical or horizontal whiteboards, while the 3D pens allow for more intricate designs.

Screen Sharing:

A pivotal feature for presentations and collaborative work, users can share their screens with others in the meeting room.

Social Distancing:

Even in a virtual space, Fusion Meeting ensures user comfort with features that prevent avatars from getting too close.

Interactive Menu: This feature provides users with handy tips and shortcuts, enhancing the overall user experience.


Fusion Metaverse offers an immersive experience that combines music, art, and various activities. Users can navigate through different scenes, called "Spaces", using portals and enjoy these experiences with friends by setting up personal groups. 
Key Features
a

Hub

as the starting point.

"

Picazoo

" – a sample game to find hidden animals with a painting gun.

a

Music scene

for aspiring DJs.

an

Art gallery

that dynamically displays artworks through an external API.

The different scenes are connected through a

teleporter module

, connecting the users to a different Photon room in the background.
Users can join public or private Spaces in Metaverse, with a smart system in place to manage crowded areas by creating new rooms when necessary. Spaces can be easily switched between, and detailed information is provided for each space, ensuring a seamless experience for the user.
Metaverse boasts dynamic audio groups for a natural listening experience and includes social distancing features to prevent users from getting too close.
Fusion Expo showcases a unique approach to developing a social application that can accommodate up to 200 users in a single Photon room using Fusion. Each user is represented by an avatar, and they can communicate with others within the same chat bubble.
Key Features
Expo: Users can join the exposition scene after customizing their avatar

. Depending on the device (PC or MAC), users can opt for Desktop mode (keyboard & mouse) or VR mode (Meta Quest headset).

Chat Bubbles:

Users can have a private conversation if they are in the same bubble. Each bubble has a lock button to prevent new entries. When two users are near each other, a dynamic chat bubble forms around the slower-moving user.

3D Drawing Tools:

Create 3D drawings, which can be moved using an anchor. A classic whiteboard is also available for drawings.
Scene Transition: Users have the option to move to a new location by walking over a bridge, which loads a new scene.
Fusion Stage exemplifies how to architect a sophisticated social application that effortlessly supports up to 200 participants in a Speech, Presentation, Cinema or Screen Sharing session.
Key Features
Interactive Stage Dynamics

: The Stage comes with dynamic presenter controls to let attendees take center stage, present content, and even invite co-presenters for a collaborative presentation, all in real-time.

Synchronized Video Playback

: Ensuring a consistent viewing experience for all participants, this feature guarantees that every user views content simultaneously, eliminating any lag or discrepancies.

Privacy Voice Chat Controls:

Fusion Stage introduces static chat bubbles with a privacy toggle, allowing users to switch between public and private conversations seamlessly.

Enhanced Audience Engagement:

Moving beyond traditional interaction, attendees can actively participate, request to voice opinions, and engage in dynamic dialogues, all facilitated by the presenter.

Tech-Optimized Core:

Built on the Shared Mode topology, Fusion Stage is compatible across multiple platforms, including PC, Mac, and Meta Quest. 
Seamless Third-Party Integrations: Fusion Stage effortlessly integrates with industry-leading third-party tools, broadening its capabilities and enhancing user experience.



Photon Industries Circle:
Members joining the Photon Industries Circle can tap into a comprehensive suite of Photon products, services, samples, support and exclusive licensing options. Become a part of our PRO Community today.