Facebook "Integrates" With Unity – Or the Other Way Around?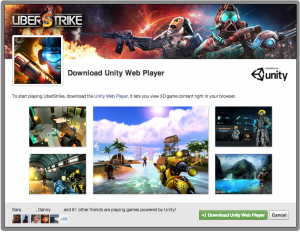 The Unity Web Player is currently installed on over 200M computers and Facebook is a great way to get players playing and connecting with each other. Recently Unity announced a close collaboration with Facebook that makes launching Unity games on Facebook much easier.
According to Unity's blog, Facebook is currently deploying a new Web Player install flow to help ease new players to Unity games through the download and install process. The new flow significantly boosted the number of users installing the Web Player and enjoying Unity games on Facebook.
Facebook will soon release a free package to the Unity Asset Store, which wraps the Facebook API into a nice, easy-to-use C# SDK.
Read more in Unity's blog here…